Hurricane Irma battered central Cuba on Saturday, knocking down power lines, uprooting trees and ripping off roofs as it headed towards Florida, authorities and witnesses said.
After leaving at least 19 people dead on its path across the Caribbean, Irma was "seriously" damaging the center of the island with winds up to 159 mph, Cuban state media said.
Irma weakened slightly to Category 4 early Saturday after making landfall in Cuba, according to the US National Hurricane Center (NHC).
There were no confirmed casualties in Cuba.
The state meteorological service INSMET reported waves of up to 23 feet on the northern coast.
"It has now stopped raining, but all night there was a terrible wind," which ripped up trees, knocked down power lines and damaged roofs, Gisela Fernandez, a 42-year-old nurse in central Villa Clara province, told AFP.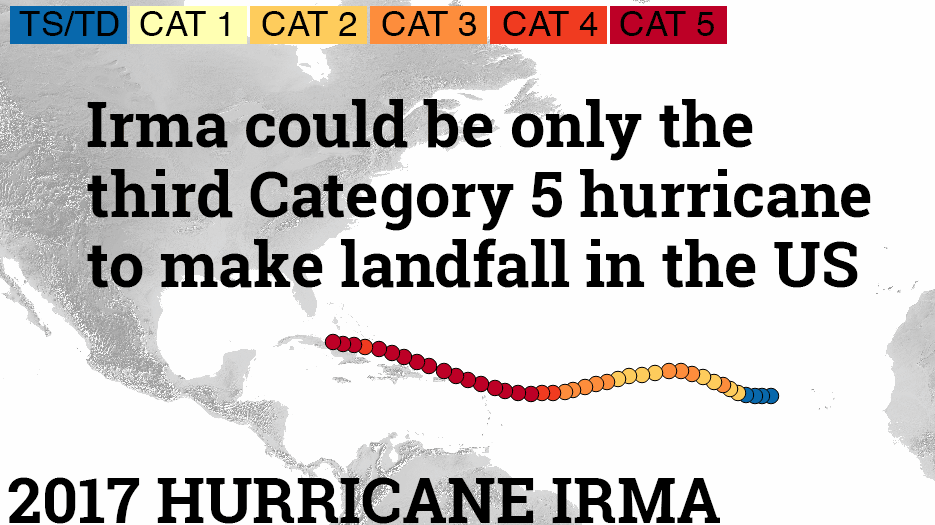 Data is from NOAA's database of billion-dollar climate and weather disasters. 
In the province's main city Caibarien, an AFP reporter said deafening gusts of wind were sweeping the area and 6,250 people had been evacuated to state refuges or other peoples' homes.
Others were shut up in their homes.
A large part of the center and east of the island was without power, television reports said.
The governor of the central Camaguey province, Isabel Gonzalez, speaking on national television, reported "major damage," without giving further details.
Irma is expected to strike the Florida Keys late Saturday and Sunday before moving inland.
"Some fluctuations in intensity are likely during the next day or two, but Irma is expected to remain a powerful hurricane as it approaches Florida," the NHC said in a public advisory.
Some 5.6 million people there faced orders to evacuate.
In Cuba, more than a million people were evacuated as a precaution, authorities said.
Another Category 4 hurricane, Jose, was also swirling in the Atlantic with winds of up to 150 mph.
It was heading towards the same string of Caribbean islands Irma had pummeled in the days before.
And Hurricane Katia struck the eastern coast of Mexico late Friday as a Category 1 storm, but was downgraded to a tropical storm after making landfall.
Katia was "beginning to stall" near the Sierra Madre mountains — though heavy rainfall would still "likely cause life-threatening flash floods and mudslides, especially in areas of mountainous terrain," the NHC said.