While the girls were hanging out in Golden Gai last night, I was picked up by William Elliott and Kazui Kawamura, the English translators of the poet Shuntaro Tanikawa and taken to an undisclosed location to meet the poet himself. I had met Tanikawa in Copenhagen 10 years ago and immediately liked him and his poetry (think Walt Whitman meets Ron Padgett, in Japanese). We had an interesting conversation about poetry, buddhism, empty space, and old radios. Turns out Tanikawa's great passion is collecting and assembling vintage radios. During the war it was forbidden to listen to foreign radio, but armed with transistors and his soldering iron, Tanikawa was able to tune into Australian and American broadcasts.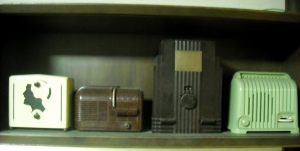 He didn't understand much English and he wasn't really interested in the content, but he found poetry in the sounds of the distant voices and the atmospheres of far away cities. His favorite; Live broadcasts from Hollywood Bowl. Here is his poem A Night Radio:
I'm holding a soldering iron, tinkering with a '49 Philco.
Despite warm tubes, the radio is stubbornly silent
but its odor, still fresh, mesmerizes me.
Why do ears wish to hear beyond their capacity?
I think we hear much too much nowadays
and I feel nostalgic over this broken radio's silence.
I can't say which is the more important to me, tinkering with a radio or writing a poem.
I long for the days when I'd nothing to do with poems
and walked those dusty childhood roads.
But I've forgotten about women and friends,
as though time did not exist.
I just wanted to hear, should have heard, something more,
my breath held, my ears cocked,
in every summer's towering clouds,
in the muttering of family get-togethers in an untidy room,
refusing to compress living into a story.
- Posted by Pejk Malinovski