Family planning and HIV prevention nonprofit DKT International commissioned a Brazil-themed condom to commemorate the World Cup, and in four months they've sold over 2 million. Brazilians have a lot of national pride, or a lot of team spirit, or a fiendish hunger for anything flavored like caipirinha (the country's national cocktail).
Yellow and green are Brazil's national colors, so you can rep your team even while engaging in the country's second-favorite sport.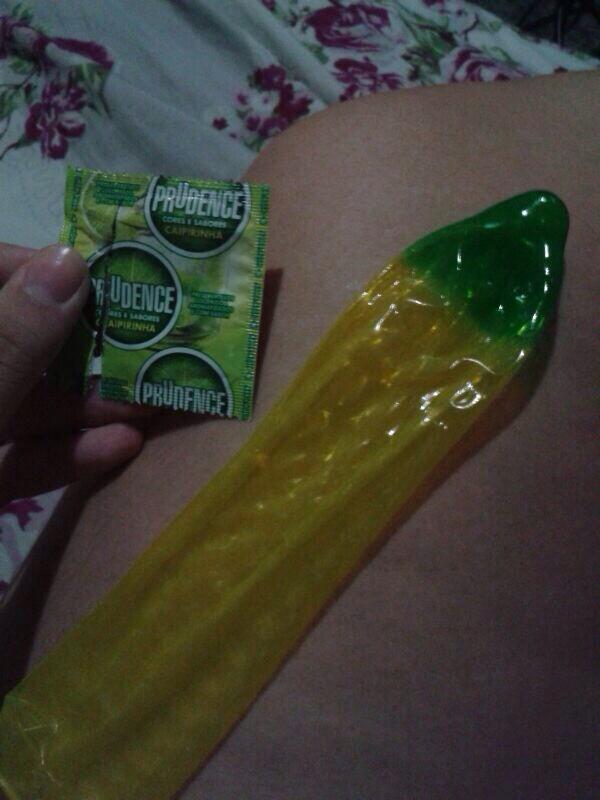 Photo by @RafaelH117.
The special-edition prophylactics, sold under the name Prudence for $1.39 a three-pack, sold out its first run of 864,000 condoms in 15 days. Of course, some of those were probably destined to be gag gifts or souvenirs, but we prefer to imagine that Brazilians are really, really, REALLY excited about soccer.
The World Cup isn't the only event to have its own souvenir condoms. Here are some others from around the globe:
Will and Kate's wedding
A condom company that is honestly, not joking, called "Crown Jewels Condoms of Distinction" devised Royal Wedding-themed jimmy hats for Will and Kate's nuptials in 2011. For a limited time, you could have a "lavishly lubed" "triumvirate of regal prophylactics" that promised: "Combining the strength of a prince with the yielding sensitivity of a princess-to-be, Crown Jewels condoms promise a royal union of pleasure." Critics reportedly found it tasteless, but if critics thought Crown Jewels was being especially serious here, critics were being seriously tone-deaf.
Occupy Wall Street
During the height of the Occupy Wall Street protests, New York store Condomania made Occupy-themed prophylactics and distributed them for free in Zuccotti Park. (People who weren't out taking an active stand against corruption could get the rubbers for a discounted, though still slightly capitalist, price of $11.99 for a pack of 30.) Each packet was emblazoned with a clenched fist and the slogan "We won't be screwed! We will come first!"
The Olympics
Every year Olympic officials hand out tens of thousands of condoms to athletes, and every year the media boggles at the number. In Sochi it was 100,000, or 35 per athlete for a 16-day period. People like to marvel at how much sex these hardbodies are having, but many athletes and collectors just take the rubbers as souvenirs. After the Beijing Olympics, one man tried to auction off 5,000 condoms, until the government deemed them "too sensitive" and asked him to pull the sale. Hey, we all want condoms that are TOO sensitive.