Scotland is only three months out from a referendum on whether Scotland should remain part of the United Kingdom. There have been celebrity endorsements on both sides — the Proclaimers and Irvine Welsh are for independence, for instance, while David Tennant and Susan Boyle are against. But J.K. Rowling's anti-separation stance is drawing an unusual amount of attention, because it came attached to a fat check. The Harry Potter author donated 1 million pounds to the campaign against independence.
Rowling is not Scottish by birth, but has lived in Edinburgh for more than 20 years. In a 1,600-word essay on her website, she lays out her reasoning and explains that her anti-independence stance comes from a sense of loyalty to her adopted country: "It is because I love this country that I want it to thrive," she writes. "I just hope with all my heart that we never have cause to look back and feel that we made a historically bad mistake."
That's been good enough for some independence supporters, who have been gracious if a little snarky ("As one of the world's leading fictional authors, I'm sure she can provide some good material for the no camp in the runup to September," said Yes Scotland board member Elaine C. Smith.) But someone at Edinburgh charity The Dignity Project was not at all pleased: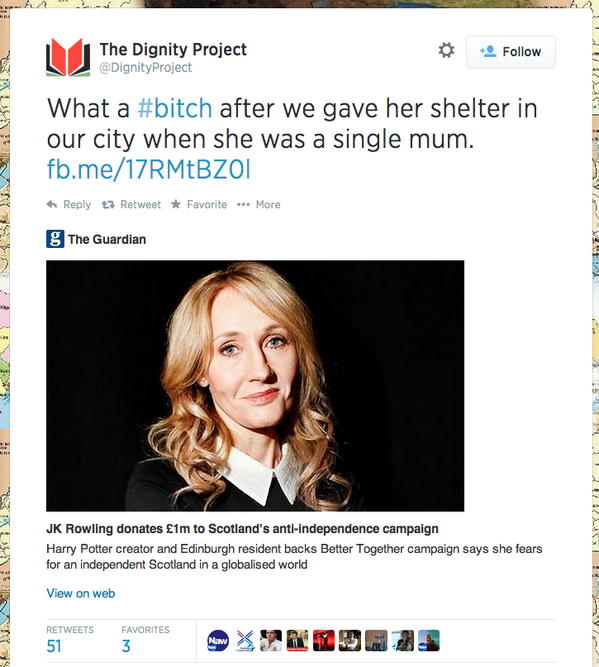 The charity later made a statement saying that its Twitter account had been hacked, because of course it did:
Well, whether The Dignity Project is disastrously bad at Twitter security or disastrously bad at PR, we know one thing for sure: It is disastrously bad at web design.