Like everything, filibusters are big in Texas. Since 1931, Texas senators have labored through 131 filibusters — 88 of which were led by Democrats and the rest by Republicans.
Here are some of the most notable:
WENDY DAVIS:
Democratic State Senator Wendy Davis led a filibuster Tuesday night that caught the attention of much of the country. Davis stood and spoke for 13 hours straight to stymie the passage of an abortion law that would have closed almost every abortion clinic in the state. Her filibuster dominated social media overnight — even grabbing the attention of US President Barack Obama.
Something special is happening in Austin tonight: http://t.co/RpbnCbO6zw #StandWithWendy

— Barack Obama (@BarackObama) June 26, 2013
BILL MEIER: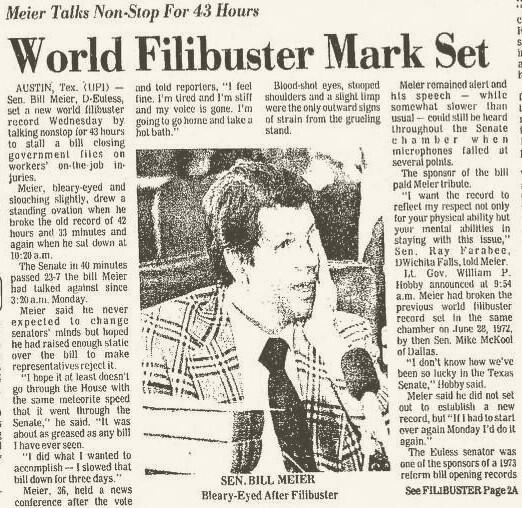 Bill Meier. via Twitter (@JECarter4) and PBS.
Sen. Strom Thurmond may hold the record for the US Senate, but Bill Meier, a former democratic Texas state senator, set the record for world's longest filibuster in 1977 after speaking for more than 44 hours. He was protesting a worker's compensation bill that he believed would hurt Texas business. Meier represented District-10, the same district Davis now represents. Like Thurmond did in 1964, Meier switched parties to become a republican in 1981. 
CARLOS TRUAN:
From 1977 to 2003, Texas State Senator Carlos Truan, a democrat and the longest-serving member of the state senate, filibustered eight times, speaking for a combined 52 hours. Truan also took to the floor with fellow democratic State Senator Lloyd Doggett, who himself held six filibusters for a total of 53 hours. When not filibustering, Truan penned key legislation, including the Texas Public Housing Authority Act (1969), the Texas Bilingual Education Act (1969), the Texas Adult Education Act (1973) and the Interstate Placement of Children Act (1975).
CYNDI KRIER:
Sen. Wendy Davis was the second woman in Texas history to filibuster, although she's done so twice. The first was former Republican State Senator Cyndi Krier, who stood for 12 hours in 1991 to defend an appropriations bill. Krier's District 26 is now represented by Sen. Laticia Van De Putte who, during Davis' filibuster Tuesday night, exclaimed: "At what point must a female senator raise her hand or her voice to be recognized over her male colleagues?"
BILL SARPALIUS:
Democratic State Senator Bill Sarpalius led one of the most controversial filibusters in Texas history. Sarpalius stood against a bill that would have added farmers and ranchers to the state's worker compensation laws, claiming it would cost poor farm owners too much money. As a result of his 9-hour filibuster, the bill did not pass. Sarpalius went on to serve Texas' 13th district in the US House of Representatives, where he helped draft the North American Free Trade Agreement.