Life is hard for the indigenous groups and subsistence farmers of two provinces in northern Ecuador, and oil is everywhere.
"It smells just like a gas station," said Ecuadorian lawyer Juan Pablo Saenz describing the present condition of the rainforest area. 
He represents a group of 30,000 Ecuadorians hoping to force Chevron into fixing ecological problems they blame on Texaco's oil development in the 1960s.
Litigation began in 1993 and has dragged on through appeals, venue changes and many efforts by the oil company to shrug responsibility for the environmental destruction.
"That's probably the hardest part about all this, just the human suffering. Cancer rates are 150 percent higher than one would expect from this sort of environment," Saenz said. "This is made worse because these people have no access to real healthcare."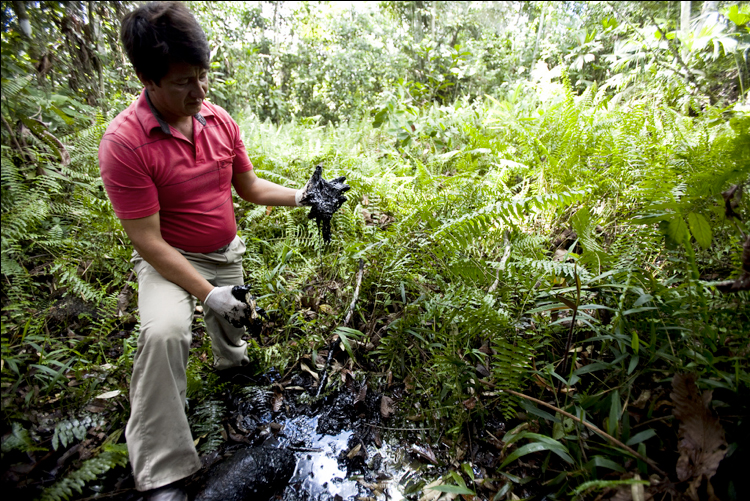 The Ecuadorian court, in 2011, handing Chevron a $19 billion bill — to be paid to the affected indigenous people. The company called the ruling illegitimate and the trial a fraud. Company officials have refused to pay the damages.
Chevron's attorney in the case argued the damage in the area was the result of abandoned pipelines belonging to PetroEcuador, a state-owned oil company.
"PetroEcuador agreed to and had an obligation under contract and the law to remediate its two-thirds share of any impacted site. They didn't do so for almost two decades," said Jim Craig, Chevron's media advisor. "They operated exclusively for 23 years with what everyone agrees is an abysmal environmental record. So if there's any contamination today in the Amazon of Ecuador, it's the responsibility of PetroEcuador."
Still determined to make the company pay, the Ecuadorian plantiffs have continued to seek out other jurisdictions where Chevron still has active business, including Argentina and Canada. An Argentinian judge originally agreed to honor the Ecuadorian court's ruling, placing an embargo on Chevron Argentina's assests worth approximatley $19 billion. The Argentinian Supreme Court overturned that ruling on June 5, claiming Chevron Argentina is seperate from Chevron Corporation.
Despite the setbacks, the plaintiffs refuse to give up.
"We will be starting new enforcement actions in other jurisdictions," Saenz said. "But what's coming soon is that hopefully we will be able to start with the remediation of the Ecuadorian Amazon rainforest — and that cannot happen soon enough."