Editor's Note: This article was originally published on Nov. 20, 2012. On March 5, 2015, after many years of criticism from animal welfare advocates, Ringling Bros. and Barnum & Bailey Circus said it was planning to phase out the use of elephants in its performances.
Hope, Maine has a population of 1,310. And two elephants. 
The tiny coastal New England town recently became the home of Rosie and Opal, two 40-something retired circus elephants, who came to live and work with their old trainer, Dr. Jim Laurita. 
Laurita, a long-time veterinarian, met the elephant pair in the '70s during his time performing in the circus with his brother Tom. Along the way, he and Tom fell in love with the animals they worked with, and promised one day to take care of them. 
Laurita made good on that promise this month when he brought the middle-aged ladies to their new home in Maine, with the understanding that Rosie and Opal would become ambassadors of their kind to help teach people that all elephants deserve a little, well, Hope.
Both Rosie and Opal will receive special care for their needs. Rosie has what is known as suprascapular nerve paralysis, which causes her to limp like this: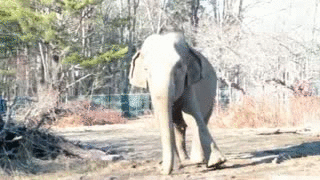 It was caused by other elephants pushing her around in her old environment, according to Laurita. This made it all the more important to find an elephant that would mesh well with Rosie, which is where Opal comes in. 
Opal also has nerve damage, however Laurita is still unsure to what extent.
Though Opal is otherwise easy to work with, she doesn't like having her trunk touched. Laurita is teaching her to become more at ease with that. First he tells her to lift her trunk so he can place a piece of carrot directly into her mouth. To get the second piece, she must let him touch her trunk. When she does, he hands the carrot to her there, and she puts it into her mouth on her own, like this: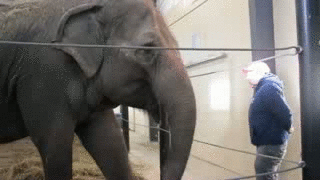 At Hope Elephants, both Rosie and Opal will receive specialized care for all of their needs, including acupuncture and maybe even one day a water treadmill.
All of this care will help the elephants to educate visitors of the plight of all elephants, which right now is nearing dire circumstance. According to the World Wildlife Federation, Asian elephants like Rosie and Opal are in danger. Over the last 60 to 75 years, the Asian elephant population has seen a 50 percent drop in population worldwide due to habitat loss and illegal hunting.
But luckily this pair will live the rest of their days in a custom-built 3,000-square-foot facility — plus a hearty yard where they can just be elephants — filled with every amenity a retiree from the circus could ask for, including heated dirt floors, enough hay to stuff your face with and the love and affection of all 1,310 members of the community. Admirers near and far are welcome to visit the pair to learn about the species, and hopefully to become inspired to work to help preserve it. 
GlobalPost recently visited Laurita and his "girls" at the Hope Elephants facility. 
To learn more about the Hope Elephants and donate to their mission, visit their website here.