If you're in Chicago between now and April 3, you have just a few more days to see an extraordinary exhibit up at the Chicago Cultural Center. It's a photo show by an unknown genius who quietly toiled away at her talents, alone, for decades, but who was almost lost to time.
Fortunately a guy name John Maloof made the discovery, but it happened pretty accidentally.
A few years ago Maloof, a real estate agent, was looking for old pics of a Chicago neighborhood. He attended a small auction and decided to buy a box of negatives, sight unseen --- it had been cleared from an abandoned storage locker. He paid $400. Inside he discovered hundreds of negatives --- and he was astonished by their quality: mostly black and white street photography reminiscent of Robert Frank, Diane Arbus, and Helen Levitt. Smart, funny, subtle: a dapper man asleep in his car; a crying child; a couple's interwined arms against the graphic folds of the woman's striped skirt. The images spanned from 1950s through the 1970s. Some were taken in Chicago, some in New York City, some on travels around the world.
For months, Maloof searched for information about the creator. He had little to go on other than the photographer's image and name: Vivian Maier.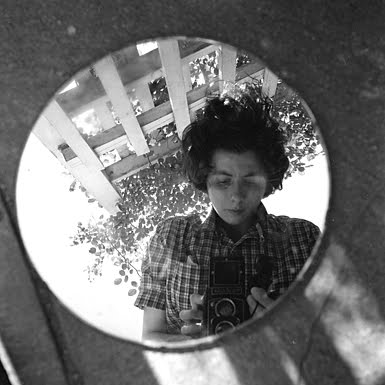 Vivian Maier, self-portrait (via Vivian Maier - Her Work Discovered)
Maloof began to keep a blog, posting his favorite images out of the thousands. In time, he learned Maier was a intensely private person with no partners or children. She wasborn in New York, grew up thereand in France,andthensettled in Chicagowhere for decadesshe worked as a nanny on the city's North Shore. Maloof found former employers, who had even more boxes of negatives, which also he acquired. But he still couldn't locate the photographer.
Maloof ultimately quit his real estate job and made Vivian Maier's oeuvre his main avocation. He spends all his time scanning negatives and has tens of thousands to go. Bins filled with hundreds of undeveloped rolls line his apartment.
Thanks to Maloof's persistence, and the support of street photographer enthusiasts around the world that he met via flickr, an exhibit of her work went up at the Chicago Cultural Center this January. The show of 80 photos closes this weekend, but there will soon be more places to see Maier's work. The arty press powerHouse will publish a photo book of Maier's work this fall. And Maloof is raising money to make a documentary --- his Kickstarter goal was $20,000, and he currently he has over $100,000 pledged.
But, like a modern day O'Henry story, there's a sad twist to all of this: just months before Maloof figured out the photographer's identity, Maier fell on the ice, hit her head, and died in a nursing home. She was in her early eighties. No one had a chance to tell her about this recent discovery of her work.
While we'll never be able to hear from Maier herself, there is an artifact Maloof found amid the film rolls: an audio recording of her voice (you can find it at 8:50 in this video).
Slideshow: Photographs by Vivian Maier