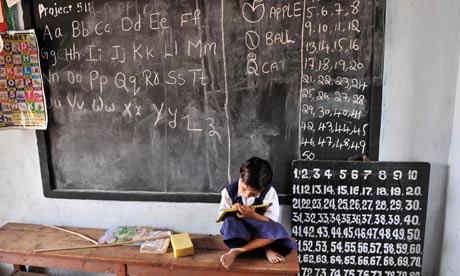 Photograph: Noah Seelam/AFP/Getty Images
India's primary schools are in dismal shape, Madeleine Bunting writes in the Guardian. But the NGO that exposed the rot has also shown that monitoring school performance can be a lot easier and cheaper than people thought.
Here's an excerpt:
--------
Enrolment rates are now running at about 95%, and a new tax has been introduced to pay for universal primary education. But Rukmini Banerji, director of an NGO, Pratham, discovered disturbing signs that children didn't seem to benefiting. The children may have been at school, but what were they actually learning​? No one seemed to know. The only assessment the government carried out was a national sample once every three to four years, but it didn't cover all educational districts.
So six years ago, Pratham took on the enormous task of finding out what Indian children were learning. The results were horrifying. Some 50% of children after five years in school could not read at the level expected after two years of schooling; millions of children were falling behind and being consigned to educational failure (all the international studies show that once kids fall behind – fail to learn the alphabet properly, for example – it is very difficult for them to catch up). In bald figures, of India's 200 million children, 195 million are now in school but fewer than 100 million are actually learning to read and do basic maths. They may be in school for five hours a day, but it is not doing them or the country much good.
----------
So where does the inspiring bit come in? Well, it turns out that this "massive, national-scale assessment exercise that has traditionally been understood in the west to be the job of the state" is being done in India "at a fraction of the cost by engaging an army of volunteers."
"There are several spin-off benefits from this," writes Bunting. "It broadens engagement in education through its 25,000 volunteers; it helps engage parents (many of whom are illiterate) in the educational process so that they can be more confident about monitoring what their children are learning, and whether the teacher is really doing their job."