Anyone else feeling a little political dj vu? Fifteen years ago this month a salacious political novel calledPrimary Colorswas published. It offered a thinly veiled account of President Bill Clinton's election campaign and was written by...well, no one knew. In spite of this, or perhaps, because of itPrimary Colorsbecame a huge bestseller and eventually amoviestarring John Travolta. Now, as if on cue, we getO: a Presidential Novel, a juicy bit of speculative fiction that purports to be about President Obama's 2012 re-election campaign. The book features cartoonishly large ears on the cover and another "Anonymous" author.
During Primary Colors's run atop the bestseller list Studio 360 host Kurt Andersen was editor of New York Magazine at the time. Aided by professor Don Foster, a Shakespeare scholar who analyzed writing styles, Kurt publicly outed TIME journalist Joe Klein. Now that there's a new mystery author, Kurt is back on the case, this time with the help of New York political writer John Heilemann. Heilemann has a terrific Obama cover story out this week and is working on the sequel to his dishy 2008 (nonfiction) campaign book Game Change.
He told Kurt that the biggest clue to the author of O is hiding in plain sight, on page two no less. It involves a specific real-life anecdote in the text that, according to Heilemann, was never reported in the press. Apparently the story could only be known by a senior strategist to John McCain, and since only one of McCain's advisers has any real writing experience, Heilemann has narrowed the list to one probable suspect: Mark Salter.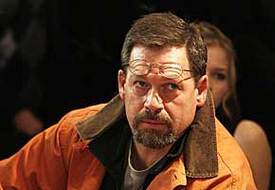 Salter is a McCain confidant and former ghostwriter whose name has come up before. But as far as we know no one, until now, has pointed out the revelatory passage on Page 2. We've yet to reach Salter directly, but he recently told the New York Post, 'I've been asked by the publisher, as apparently many other people have, not to comment. So, no comment.'
Hmm... did we mention that back in 1996 after Joe Klein spent months vehemently denying writing Primary Colors he eventually came clean, proving Kurt right? But don't take our word for it. We're relying on the wisdom of the crowd for this one. If you do a little sleuthing and come up with a better guess, by all means add it to the comments below. We'll keep an open case file until the mystery is solved.
UPDATE: Salter has been revealed as the mystery author. Gold star, Heilemann.