Part history lesson, part satire, part blood bath --- a lovely night at the theater, no? "Bloody Bloody Andrew Jackson" (now up at New York's Public Theater) is a singing, dancing, punk-rocking rollick through the 7th presidency by Les Freres Corbusier, a company that delights in re-imagining well-known historical figures. They're known for turning said figures on their heads and, in this case, winning some of the highest praise of the season doing so.
This Andrew Jackson is the opposite of what you learned in high school. He's bold, haughty, fearless, and damn cool. One moment he's conquering the West. The next he's mouthing off to the stuffy clowns running Washington. Sure, his politics are complicated: we see Jackson battle, befriend, buy-out, and ultimately displace Native Americans (all in cartoony slapstick). We also see him strain under the weight of popular rule --- the ideology on which he rose to power.
Not to be underrated is the pleasure of sitting in a theater transformed into a hipster, steam punk hunting lodge: chandeliers and baubles hang from the ceiling, taxidermy litters the walls --- including an entire horse at the end of an aisle!
After passing 100 performances, the show has to close this weekend. There's buzz that it could move to Broadway --- which would be great, of course, I'm all for inventive and timely musical theater getting a big audience. But there's something about this larger-than-life world that reads so well when it's bursting at its own seams. Just like the upstart for which it is named, the show rings truest when it's resisting The Man --- we can't help but be cynical when Jackson becomes just that.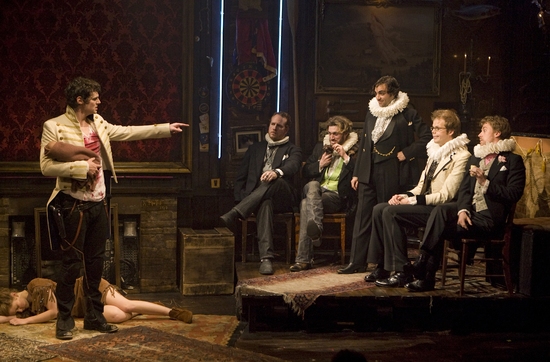 UPDATE (7/15): "Bloody Bloody Andrew Jackson" will, indeed, rock Broadway beginning September 21, 2010.