Post-its - those handy little sticky notes - turn 30 this year. To celebrate the milestone, 3M is inviting young people aged 11 - 18 to create Post-it art. The winner will work with an artist to create the world's largest billboard made entirely of Post-it notes. It will be displayed in Vanderbilt Hall at New York's Grand Central Station in August 2010.
Both contest and prize seem appropriate; Post-its have often been used as a medium to channel artistic expression...
This mural is actually a mosaic of individual, community-generated to-do notes.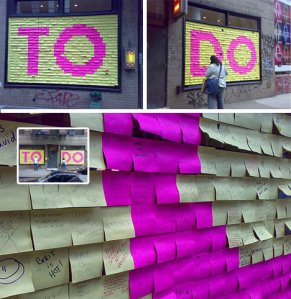 In a pinch, you can also use them to redecorate your home.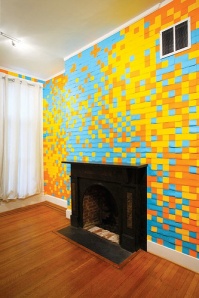 The deadline for the contest is June 4, 2010.
And if you feel like you might need some background for your Post-It art, check out Studio 360's post-it sized profile of the Post-It, provided by Paola Antonelli, design curator at the Museum of Modern Art.
-Michael Guerriero