There's a public art exhibition opening next week in New York City that has me a bit concerned.
It's called Event Horizon, and it consists of 31 life-size human figures made of iron and fiberglass. The forms will stand on pathways and sidewalks in the Madison Square Park area of the city. That's intriguing, and sort of George Segal-esque. The troubling part is that several of the figures will be perched on area rooftops. And the artist, Antony Gormley, says he wants to get the sculptures as close to the edge of the building as possible.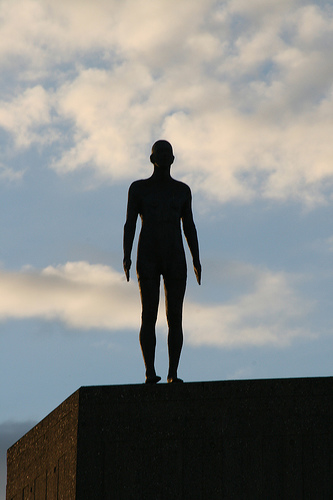 Now, I don't know about you, but if I saw what looked like a human being standing close to the edge of a building, I wouldn't take the time to inspect and discover that it's a piece of sculpture. I would call the police. And I don't think I'm alone.
I know that art is often provocative. Great art sometimes makes me uncomfortable. But I have to draw the line when art makes me call 911.
I am curious to see how it goes over, how my fellow New Yorkers will react. What would you do?
---Cary Barbor