This week on Studio 360, we take an in-depth look at The Wizard of Oz, assuredly one of the most beloved (and bizarre) fables to capture Americans' imaginations. This year marks the 70th anniversary of Warner Bros' film adaptation of Frank L. Baum's children's book and for the past year the studio has been throwing the movie quite the birthday party. The festivities will come to a gloriously over-the-top conclusion next month with an event Warner Bros. is calling 'The Emerald Gala' in New York City.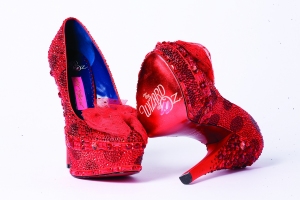 Getting into the event (hosted by Tavern on the Green) seems about as likely as the average munchkin's chances of seeing the wizard, but if you do finagle your way in, oh the wonders that await! A yellow brick road! Ashanti (fresh from 'The Wiz' on Broadway), munchkins! (that is, a few of the actors who played them in the original movie). Most intriguing to me, however, is the exhibition of designer ruby slippers, on display for the last time before they are auctioned off (for charity of course).
For those of us who will not be granted entrance to the Emerald City, Warner Bros is offering a slightly less swanky affair -- screenings of the movie in high definition at theaters across the country.
Find a screening location here.
Listen to our American Icons show on The Wizard of Oz here.