Gaze up above any low slung building in LA and this is the view.
Greetings from the other side of the Pacific Rim-- Los Angeles! This winter/spring Kurt Andersen has a special residency at the Art Center College of Design in Pasadena, and we've got some LA-based stories and interviews in the works. I finally walked around my new nabe today in mid-city. (I'm calling it LaVicPic-- near the intersection of La Brea, San Vicente, and Pico), and I stumbled on what I thought was a record store, called 33Third.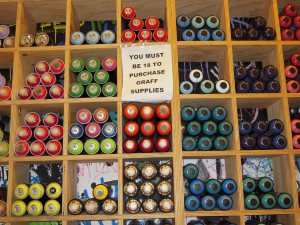 The name is a reference to the vinyl it used to sell. The record bins were empty, but on the opposite wall was a mesmerizing grid of aerosol paint cans in colors with names like eggplant, smurf, and aspen. Each can goes for $7 or $8 bucks. Bill, who was working the register, told me the vandals shop elsewhere; taggers prefer the $1 cans from the hardware store. Turns out high end paint for graffiti artists makes 33Third way more money than vinyl records ever did. Then he opened up the back door for me to check out the yard. Every available surface is covered with graff art, even the BBQ. In March they'll have DJs, live bands, and graff parties out back, it's not warm enough now, Bill says. How is that possible? It was at least 80 degrees here today!
-- Michele Siegel